Founded in 2003, it brings together 18 solo musicians from the Rhône-Alpes region around several original repertoires composed by Pierre BALDY-MOULINIER.
With participations in numerous festivals such as Jazz à Vienne, Beaune, RhinoJazz, or collaborations on large-scale projects with the National Orchestra of Lyon, internationally renowned artists such as Stefano Bollani, Bert Joris, Pierre Drevet, Leonard Slatkin, the group has acquired a certain maturity in the approach of the repertoire for large groups.

In recent years, this professional big band has been involved in an educational process of collaboration with music schools, providing an original repertoire for large ensembles (string orchestra, wind band, big-band choirs or combos ...) accompanied by the ŒUF.

The intensity of the commitment of each musician makes it possible to affirm the creative identity of the ensemble which is expressed in a hybridization of genres.
The goal remains, like the three albums, to "democratize" jazz music and make it accessible to a large number of people, while maintaining the "research laboratory" aspect. The whole is served by inspired musicians with communicative energy.
Discography :
2010 : Eclosion CR 150 (Cristal Records / Harmonia Mundi)
2013 : Cascade (A.D.M.E. 003)
2016 : Petits Plats pour Grand Ensemble (ADME-OBSTINATO / InOuïe)

2023 : l'Astro-Symphonie (ADME-OBSTINATO / InOuïe)

Projects :
l'Astro-Symphonie :
La nouvelle œuvre époustouflante du big band de l'ŒUF associe astrophysique et jazz, et nous embarque dans la vaste symphonie de l'univers.
Le big band de l'ŒUF s'engage dans une nouvelle aventure : associer le travail d'un astrophysicien, celui d'un compositeur, d'une illustratrice et de tout un big band. Le pari ambitieux de l'Astro-Symphonie est donc de créer, jouer et diffuser une œuvre qui permette de faire ressentir au plus près les processus physiques qui sous-tendent l'évolution de notre Univers en les rendant accessibles au plus grand nombre.
Laissez-vous embarquer dans cette vaste symphonie de l'univers.
Rhapsody for the Earth:
Rhapsody for the Earth, from symphonic to Jazz proposes the meeting between a symphonic orchestra, the big band of L'ŒUF and an international soloist around the compositions of Pierre BALDY-MOULINIER and Stéphane PELEGRI, composer and percussionist at the National Orchestra of Lyon.
The themes of mineral matter, terrestrial and cosmic forces served as the basis for imagining and conceiving this unique repertoire bringing together on stage no less than a hundred musicians.
Petits Plats pour Grand Ensemble :
Petits plats pour Grand Ensemble is a musical and gustatory show that offers the audience, after a tasting session, the possibility to participate in an experience where all the senses are mixed. A chef will cook live on stage, alongside the big band, dishes related to the titles chosen by the audience from a menu that will be given to them at the beginning of the show. One of the goals of this multidisciplinary performance is to "break" the 4th wall that we know in the theater in order to put the audience at the center of the creative process.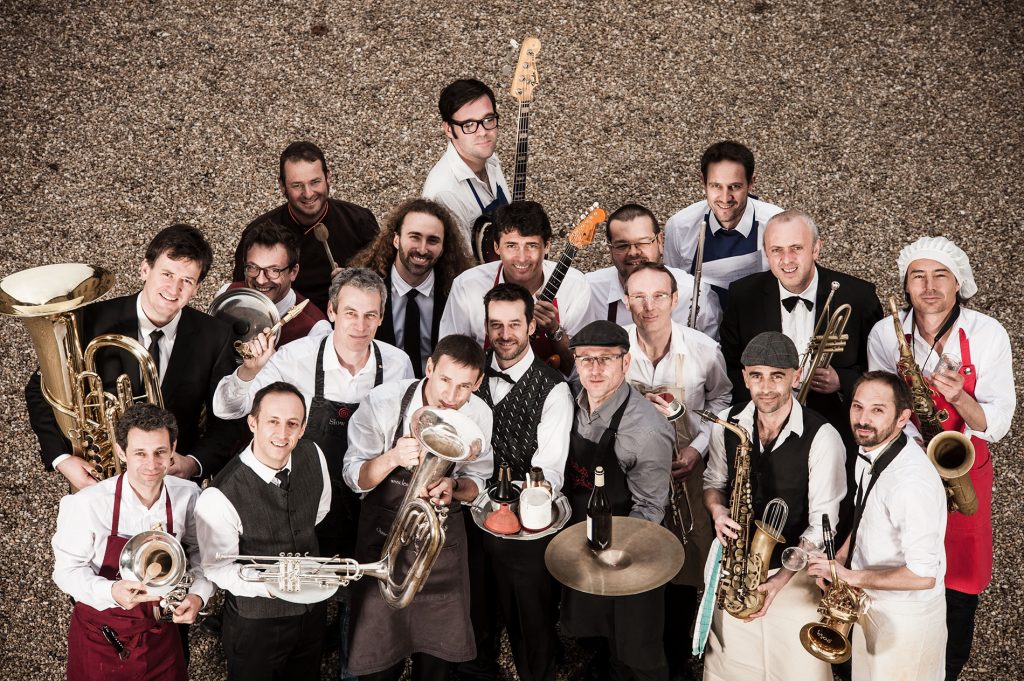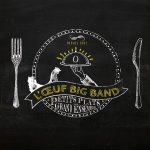 Pierre BALDY-MOULINIER Trombone, euphonium, flûte à bec
Jean-François BAUD Trompette, bugle
Antoine BOST Sax ténor, soprano
David BRESSAT Piano, claviers
Jean CROZAT Trombone basse
Olivier DESTEPHANY Trombone, euphonium
Sylvain FELIX Sax baryton, alto
Hervé FRANCONY Sax alto, clarinette basse, flûte
Hervé HUMBERT Batterie
Christophe METRA Trompette, bugle
Basile MOUTON Contrebasse, basse
Vincent OLLIER Tuba, euphonium
Boris POKORA Sax alto, clarinette, soprane, flûte
Eric PROST Sax ténor, soprano
Fabien RODRIGUEZ Percussions
Hervé SALAMONE Trompette, bugle
Bruno SIMON Guitare
Vincent STEPHAN Trompette, bugle