The Skokiaan Brass Band was formed in 2013 by François Rigaldiès (saxophonist, composer, arranger) who then surrounded himself with musicians from the Auvergne- Rhône-Alpes region (Bigre!, Keystone Big Band, L'OEUF, The Very Big Experimental Toubifri Orchestra, Cie Les Charentaises de Luxe, Cie Transe Express). The group was inspired by the brass bands of New Orleans and created a first repertoire tinged with second line, jazz and funk.
In October 2015, the Skokiaan Brass Band took a working trip to New Orleans. The members of the band had the privilege of accessing the essence of jazz and Nola brass band music through a series of workshops led by local music greats including Kirk Joseph and Kevin Louis. The musicians of the Skokiaan Brass Band return to France profoundly transformed by this experience which will prove to be the foundation of the band's project.
In 2017, the band self-released their first EP We need music! (Inouïe Distribution, released 1/6/2018, smarturl.it/WeNeedMusicSkokiaan). Through this opus mixing compositions and covers, the band pays tribute to the long tradition of Nola's brass bands and the incredible vitality of this city where they drew energy and inspiration.
In 2018 the idea of the album project The French Touch (link to label section for album description) was born, where the sound of New Orleans meets the French spirit. And it seems obvious to entrust the production to Kirk Joseph in order to extend the work done with him in 2015. His great knowledge of the musical tradition of brass bands and his pleasure to share it strongly marked the group during their first meeting.
The Skokiaan Brass Band has produced more than 110 performances since 2013, in France and abroad (Switzerland, USA): Jazz à Vienne Festival, D'jazz Nevers Festival, Rhino Jazz Festival, Crescent Jazz Festival, A Vaulx Jazz, Caval'air jazz Festival, Festival du Monastier, Saint-Fons Jazz Festival... Find all past and upcoming dates on the website www.skokiaanbrassband.fr, rubrique Tour.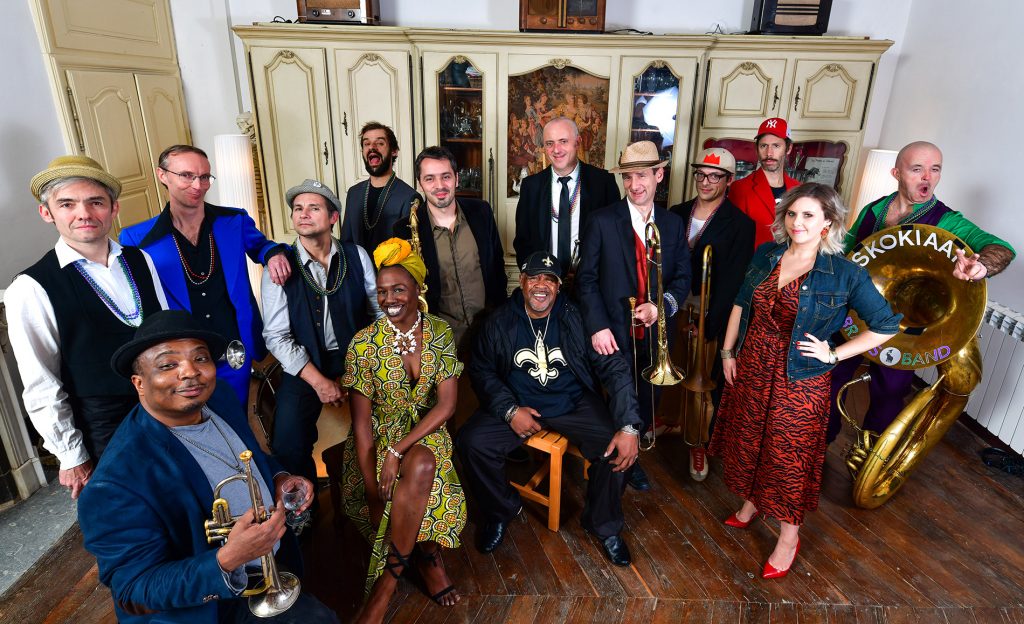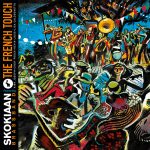 Félicien Bouchot, Christophe Métra, Vincent Stéphan : trumpets
Pierre Baldy-Moulinier, Jean Crozat : trombones
François Rigaldiès : tenor saxophone, vocals, artistic direction
Fred Gardette : baritone saxophone
Christophe Garaboux : sousaphone
Christophe Durand : caisse claire
Philippe Bostvironnois : grosse caisse
Jérôme Taton : sonorisateur
Benjamin Thielland : light, scenography
Guests " The French Touch " : Lisa Caldognetto, Cindy Pooch : singing