David Bressat
French Songs
Jazz is a passion that has often taken us beyond borders. France, too, abounds in unforgettable sounds, melodies and colors. We wanted to rediscover them and make them our own, turning them into a terrain for experimentation and cultural cross-fertilization.
Under the direction of jazz pianist David Bressat, French Songs revives a number of pieces by illustrious French composers.
In the style of American standards, he introduces us to daring arrangements of the songs and tunes that lulled our childhood. Without any chauvinism, David is so passionate about these adaptations that he loves the melodies of these inspired composers.
He enjoys revisiting the songs of Georges Brassens, Jacques Dutronc, Claude François and Daft Punk, but also likes to approach classical music with Gabriel Fauré, Maurice Ravel and Claude Debussy.
David Bressat's impressionistic playing and melodic qualities blend admirably in this project for "poetic, radiant, inhabited jazz".
The experiment began in 2008 with the trio album French Connection Volume 1, featuring Serge Gainsbourg's L'eau à la bouche and Georges Debussy's Arabesques....
2011 sees the arrival of new French Songs following the trio's meeting with Marcus Strickland, a highly talented American saxophonist (Jeff Tain Watts, Roy Haynes). Together, they built a cross-cultural project, in which the Afro-American musician played pieces by illustrious French composers alongside David Bressat's trio. This successful encounter led to a concert tour and a highly acclaimed second album, French Connection. It includes Georges Brassens' L'orage, Jacques Dutronc's Le Petit Jardin and Gabriel Fauré's Les berceaux.
David Bressat's third album, Soleil Caché, features new arrangements of French songs (Daft Punk's Get Lucky, Aznavour's La Bohème, Maxime le Forestier's Mon Frère).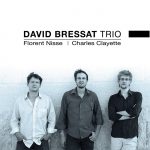 David Bressat – Piano
Charles Clayette – Batterie
Florent Nisse – Contrebasse